Simulated Experiences
for Phones and Tablets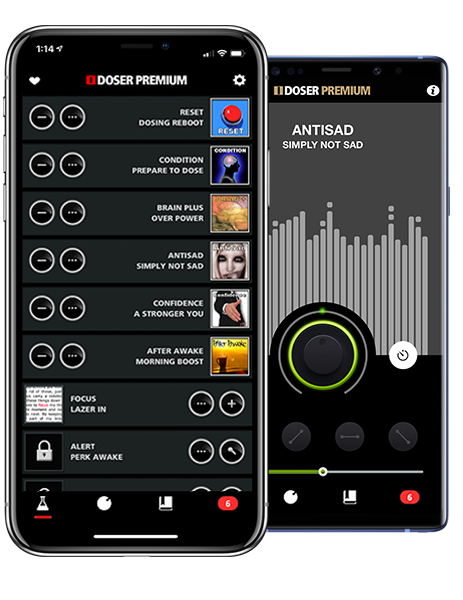 I-DOSER MOBILE and TABLET
WORLD'S TOP BRAIN APP
I-Doser Mobile includes an advanced feature set like Dose Tuning, SlipStreaming, and Library Management. It is the largest dose collection available for on-the-go dosing with queuing that allows for unlimited dose combinations. An Integrated step-by-step method assists in making sure you get the best possible results from your journey. Use on an all Google Android and Apple iOS mobile phones and tablets in Retina and HD clarity with crystal clear premium sound.
Download Apple iOS or Google Android
Perfect Companion
Use the app for quick dosing on the go and the computer software for longer dosing sessions while at home.
XD Retina Graphics
Looks beautiful & ultra-sharp on Retina Screen Displays. From phones to tablets, I-Doser is expertly designed.
Largest Dose Collection
I-Doser has the largest collection of mobile doses. Nearly 20 included in app with hundreds more available. What doses?
Best In-Class
The top downloaded and rated binaural app available in Google Play and Apple Store with millions of downloads.
Powerful Control
From SlipStream Control to Real-Time Tuning, I-Doser Premium gives you powerful control over your sequences.
HyperSkin Engine
Prefer Flat or Skeuomorphism design? You choose exactly how the app looks and feels and you can change the design at any time.
Looks beautiful on all devices

Brainwave doses use powerful audio. I-Doser makes no claims to their effectiveness and they should be used for entertainment only. I-Doser may impair ability. Use at your own risk.